ACADIA 2012 WORKSHOPS - Sunday, Oct 21, 2012
Description
These one-day intensive workshops at CCA San Francisco will provide a platform for students and professionals in the design disciplines to explore cutting-edge technologies in a hands-on workshop setting. Following the idea of this year's "Synthetic Digital Ecologies" conference theme, our workshop offerings were curated to be diverse, rich and experimental. The workshops are open to the public. To contact the workshop organizers please e-mail: acadia.conf.2012@gmail.com
Registration
Overview
* Detailed workshop descriptions can be found on the Eventbrite registration site linked above - simply click the "Description" link under each workshop entry.
01. "ALGORITHMS & MATHEMATICS"
Date: Sunday, Oct 21 (8:30am - 5:30pm)
Location: CCA San Francisco, Room E1 (East 1)
Instructors: Edmund Harriss with David Celento, Brian Lockyear
Synopsis: The question for a computationally engaged designer or architect is how to navigate the world of algorithms to find the elegant, beautiful, and useful. Gaining a better understanding of the underlying mathematics is essential to better explore diverse possibilities. This workshop will be collaboratively taught by both mathematicians and architects exploring what happens when "Form Follows Functions"..
Pre-requisites: General familiarity with Grasshopper
Software: Personal laptop loaded with Rhino 5 beta in Windows, latest Grasshopper

02. "5 AXIS ROBOTIC FABRICATION"
Date: Sunday, Oct 21 (8:30am - 5:30pm)
Location: CCA San Francisco, Room W2 (West 2)
Instructors: Brandon Kruysman and Jonathan Proto (SCI-Arc) 
Synopsis: Instructors will be bringing their 5-axis Staubli TX60L robot up from the SCI-Arc Robot House. They will lead a hands-on workshop focused on its technical and creative applications. They have developed a custom robot control plug-in for Maya which they will share and showcase. See a demo video of their robots in action at SCI-Arc.
Pre-requisites: None
Software: Laptop loaded with Maya (Recommended, not required) and Rhino (for tool paths).

03. "CASE STUDIES IN PARAMETRIC DESIGN"
Date: Sunday, Oct 21 (8:30am - 5:30pm)
Location: CCA San Francisco, Room W1 (West 1)
Instructors: Andrew Kudless (Matsys) and Andrew Heumann (NBBJ) 
Synopsis: Case Studies in Parametric Design - The use of precedents in the design process has been driven by their transformative potential. Parametric tools provide a platform through which the precedent diagram is not only analytic but also generative. Working with Grasshopper, we will build parametric models of several case study projects and explore their latent capacities.
Pre-requisites: Intermediate Level Grasshopper Skills
Software: Personal laptop loaded with Rhino 5 beta in Windows, latest Grasshopper

04. "ROBOTIC PROTOTYPES"
Date: Sunday, Oct 21 (8:30am - 5:30pm)
Location: CCA SF, Hybrid Lab (near Timken Reception)
Instructors: Michael Shiloh, Ripon DeLeon and Jason Kelly Johnson (Future Cities Lab)
Synopsis: The Robotic Prototypes workshop will explore the use of Grasshopper, Firefly and Arduino as creative and technical tools in the design, simulation and prototyping of intelligent building skins. Firefly is a new set of comprehensive software tools dedicated to bridging the gap between Grasshopper, the Arduino micro-controller, the internet and beyond.
Pre-requisites: None
Software / Hardware: Personal laptop loaded with Grasshopper, Firefly and Arduino software. Arduino kits are recommended. We will have kits on hand for those that do not have them.

05. "COMPUTATIONAL DESIGN STRATEGIES WITH DESIGNSCRIPT" 
Date: Sunday, Oct 21 (8:30am - 5:30pm)
Location: CCA San Francisco, Room E2 (East 2)
Instructors: Robert Aish (Autodesk) with Fisher, Tierney
Synopsis: The objective of this workshop is to help participants develop appropriate design strategies using advanced computational tools based on the DesignScript language. DesignScript is an end-user multi-paradigm programming language embracing associative, imperative and object orient programming concepts. It is intended to be used for advanced geometric modeling, architectural design, building engineering and digital fabrication.
Pre-requisites: Some experience of conventional geometric modelling, associative and imperative programming
Software: Participants should bring their own computer which should run Windows 7 64 bit O/S, AutoCAD 2012, and Autodesk Robot Structural Analysis Pro. (Students / Faculty can download these free here. A 30 day free trial is available here - Autodesk 2013 + Autodesk Robot). AFTER you install AutoCAD 2013 and Robot 2013 you can install DesignScript (note: both products must be installed first). DesignScript (and supporting documentation and tutorial videos) can be downloaded from Autodesk labs [link].

06. "PYTHON SCRIPTING WITH REVIT / VASARI"
Date: Sunday, Oct 21 (8:30am - 5:30pm)
Location: CCA San Francisco, Room 103
Instructors: Nathan Miller (C.A.S.E.)
Synopsis: The workshop will introduce users to Python-based automation and generative techniques for Conceptual Modeling in Revit and Vasari. Participants will learn how to use Python to create and control Conceptual Modeling geometry such as Forms, Curtain Systems, and Adaptive Components. The workshop will also cover how to establish workflows with external data sources to influence parameters and families.
Pre-requisites: General familiarity with software.
Software: Vasari Beta 1, Vasari SDK, RevitPythonShell (Installer for Vasari Beta 1 is pending...) Recommended: Revit Architecture 2013, Notepad ++ (or other Python editor), Rhino/Grasshopper (for interoperability experiments),

07. "GIS DRIVEN PARAMETRIC DESIGN"
Date: Sunday, Oct 21 (8:30am - 5:30pm)
Location: CCA San Francisco, Room 101
Instructors: Sandoval, Faichney, de Monchaux (UC Berkeley) 
Synopsis: This workshop will introduce a design process that implements Finches and the LocalCode components, a suite of tools for working with GIS data in Rhino/Grasshopper. Using these tools, participants will choose a multitude of sites around the San Francisco Bay Area, create site packages of relevant GIS data for each site, and import them into Rhino/Grasshopper. Participants will use these site packages and their associated data as parameters for Grasshopper algorithms to generate a unique design proposal for each site based on local conditions. 
Pre-requisites: Familiarity with Grasshopper
Software: Rhino 4 SR8 or SR9 -Rhino 5 Beta 2012-09-05, IronPython, Grasshopper, Grasshopper Python Component, Grasshopper LocalCode Components
Questions: John Faichney johnfaichney@gmail.com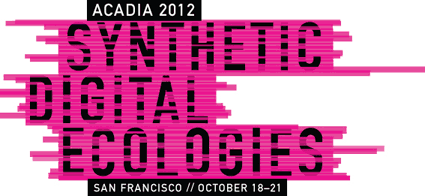 California College of the Arts (Host)
CCA San Francisco Campus
1111 8th Street, San Francisco, CA. 94107
CCA San Francisco is the hub for design innovation and experimental architecture in the Bay Area. Its downtown campus is located in a 120m long former bus depot and is home to a world-class fabrication and digital design facility adjacent to its design studio spaces.
Workshop Schedule
Coffee and Pastries available at CCA
8:30a: Workshop Registration (CCA Nave Entry)
9a: ACADIA Workshops Begin
11:45a: Workshops Break for Keynote
12-1pm: KEYNOTE: MANUEL DE LANDA (Nave) Open to Workshop Attendees and the CCA Community
Box Lunch and Coffee will be served to conference attendees and workshop participants
5:30pm: ACADIA Workshops End
FAQS - Frequently Asked Questions
1. If you have NOT registered for the ACADIA conference may I participate in the workshops? Yes, you may participate in the workshops. A large discount will be provided for students and all ACADIA attendees.

2. What is the cost? Are discounts available? If you are a Current Student (with a student card for Fall 2012) or ACADIA 2012 Conference Attendee then the workshop fee is $135. If you are a Professional or Faculty then the workshop fee is $235.

3. Will we be able to attend the Manuel De Landa ACADIA Key Note Lecture on that Sunday afternoon? Yes, A 1.25 hour lunch break will be provided so that all participants (whether you registered for the conference or not) may attend the Manuel De Landa Key Note Lecture. The Key Note will also be taking place at CCA in the main Nave space.

4. Where and when will the workshops be held? The workshops will be held in classrooms / labs at CCA San Francisco located at 1111 Eighth Street (between Hooper and Irwin St). Directions to the school are here. The workshops will be held on Sunday, Oct 21, 2012. Check-in will begin at 8:30am near the 1111 Eighth Street entrance. The workshops will run from 9:00am-5:30pm. There is plenty of parking in the neighborhood surrounding CCA.

5. Will you serve coffee and will lunch be provided? Coffee will be provided at registration. A box lunch with drinks will be served after the Key Note lecture at 1:00pm at the back of the main CCA Nave. Please bring your laptops and valuables with you to lunch since we will not be able to lock down all of the workshop rooms. There are also other coffee and food options in the neighborhood including: CCA's A2 cafe, Axis Cafe (1201 Eighth 8th St) and Whole Foods (450 Rhode Island).

6. What should I bring? What software or hardware is REQUIRED? Each workshop has its own software and hardware requirements listed in the "Workshop Details" (in the left column of this paget). All workshop participants MUST bring their own laptop computer running Windows. Please have all software installed prior to the beginning of the workshop. We also recommend a two or three-button mouse.

7. Will Wifi be available at CCA? What is the login info? Yes - public free Wifi is available at CCA. Look for the "CCA_N" network - no authentication is required.

8.  What about dinner in the neighborhood? For dinner (make reservations if possible) you might head up to Potrero Hill restaurants (Chez Papa, Aperto, Sunflower, Rocketfish) in the vicinity of 18th Street and Connecticut St. In the Mission we recommend Slow Club, Blowfish, Dosa, just to name a few. For a quick post workshop beer close to CCa you might try the bar at Skool restaurant, or local dive bars such as Connecticut Yankee or Parkside (just a stone's throw from CCA).

9. Can we provide a training "Certificate" if you have completed a workshop? Yes - you can request a PDF certificate by e-mail. Please allow two-weeks for completion. 

10. What if I am schedules to present a conference paper on Sunday? Can you move my presentation to another day? If you are preseneting a paper on Sunday, Oct 21 we discourage you from signing up for a workshop. We apologize for this overlap. To find out when you are presenting please refer to the conference schedule. It will not be possible to shift presentation dates / times. 
Conference Maps
View a custom Google Map with all hotels, venues, transportation, food, and much more.